Aina is a privately held mirror manufacturing company in Kazakhstan. Manufacturing various types of interior mirrors, including light mirrors. In Aina's production activities not only traditional technologies are used, but also its own innovative developments.
The Challenge & current state :
The niches Aina caters to are specialized stores of construction products and plumbing fixtures in large cities of Kazakhstan. Due to the peculiarities and the business model, backlit mirrors were poorly represented in the offline market, and hence, they brought minimal income.
The client's objective and our assigned task – to increase sales of mirrors with LED backlighting in order to receive regular orders from several audiences (wholesale, retail & designers).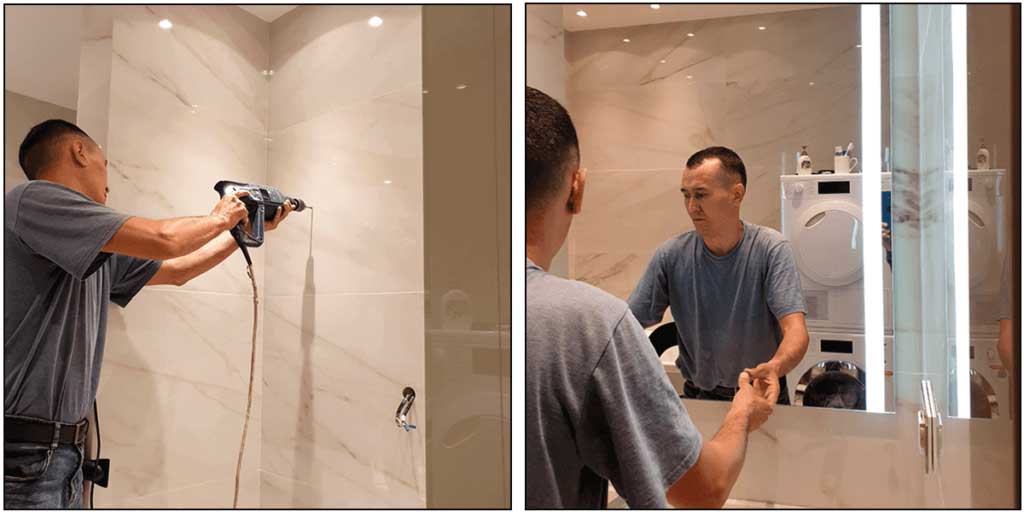 Summary of stages performed
We invite you to review the stages below in more depth, however below is a synopsis of the actions taken to meet the client's objectives.
Actions taken by VK Web:
Conducted marketing research
Calculated the profitability of the project
Selected the most effective promotion strategy
Analyzed competitors and target audience
Tailor copywriting to invoke action taken
Designed and developed a custom landing page
Technical website optimization
Set up contextual advertising
Conducted A/B testing
Bonuses given:
Created the design of the Instagram page
Developed a content plan for 18 days
Marketing brief
Our objective is clear: establish a trusting long-term mutually beneficial partnership. One that is not based on hollow or short sighted-results, but genuine evergreen outcomes. As such, understanding the client's challenges, strengths/weaknesses, goals and short and long-term objectives are essential.
A list of questions were sent to the client. Working with the client, we collected a range of valuable information ranging from the business, their marketing and key competitors. We also defined the client's goals and objectives for the upcoming year, learned key features of their product, areas of development/expansion, identified their ideal audience(s), and much more.
The result, a pivotal document where all main points of future interactions as well as data to create a strategic and comprehensive media and working plan.
Competitor & Audience analysis + creating a USP (unique selling proposition)
To begin with, the characteristics of the product were studied, such as: assortment, quality, technical characteristics, etc. We identified the target audience, analyzed the attributes of wholesalers and resellers separately, and identified the priority target audience segment(s).
During our comprehensive competitor analysis, we uncovered:
Which regions were represented (or misrepresented),
Their advantages and disadvantages,
Marketing funnels,
Traffic channels used,
How they influence the audience, etc.
The result was being able to differentiate the product on the market, form a strong offer, highlight the key benefits from purchasing a product, determine the cost and number of desired potential customers, and calculate the budget for an advertising campaign.
This document presents and describes in detail all segments of the client's target audience: gender, demographics, income, interests, key factors when making a purchasing decision, additional factors when making a purchase decision, how to make a purchase (transaction cycle), the purpose of visiting the landing page, objections, etc.
Using our market research, target audience and competition analysis, we conclude a landing page would be most effective. The focused landing page would answer client objections quickly. Not only would this differentiate us with the competition, but demonstrate to the desired target audience, Aina's heard them.
To accomplish this, our copyright and SEO team would play a large role as functional and optimized sections would be created to answer specific consumer questions.
Our goal was to ensure that the consumer receives complete information about the product on a single page: everything would need to be logical, coherent and reasoned.
Minimal distraction, visual reinforcement and clear copyright would be absolutely essential.
Prototype, design and Copywriting
Our SEO team gathered and grouped the required elements, questions and concerns. Although the consumer was the focal point, our team ensured white-hat SEO practices were also acknowledged; aspects like; page title, meta description alt tag, etc.
The suggestions and requirements were handed to the copywriting team. They continued to create the text while ensuring the essential weighted text was clearly focal and easily visible.
Functional sections were created to clearly answer specific consumer questions, such as:
How much does a mirror cost?
What makes LED mirrors practical?
How long was the wait time and why?
What are the technical characteristics of LED mirrors?
Is the packaging secure during transport? etc
Upon the text being created and agreed upon, the prototype phase followed and finally the design.
As the deliberate objective was addressing the concerns clearly. Unnecessary decorative elements, excessively bright colors or non-standard fonts were not used. Additionally, each element would be accompanied with visual content.
Collections of Keywords for Google search advertising
At this stage, we already knew the specificities of the company, understood our potential customers, and which queries in the search engine they are looking for light mirrors.
"buy mirrors with lighting"
"mirrors with LED lighting"
"price of illuminated mirrors"
"made-to-measure illuminated mirrors" etc.
Then based on these high frequency keywords, we compiled a list of low frequency searches to ensure we took into account all user requests.
Finally we created our exclusion list to ensure the client did not overpay on irrelevant queries that would not bring conversions. A total of 121 negative keywords appeared in the list, including competitors' brand queries.
Development & technical website optimization
This landing page not only needed to load quickly, be SEO optimized, but also have the ability to be edited easily. A/B split testing would be a necessary element down the road. To ensure this, we opted to use WordPress.
Despite using WordPress we decided to create our own PHP database and custom theme to ensure future updates would not impede the pagespeed result.
We also check our WordPress 101 point checklist, which includes:
Ensure site was 'hidden' until launch
Connected Google Analytics
Created 404 & sitemap pages
Ensured site was cross-browser & responsive
Adhered to encoding and DOCTYPE
Validity (including CSS and JS), Accessibility, Microformats
All folders and images used a congruent structure
Optimized for 95+ pagespeed score
Configuration of Google search & remarketing ads.
After configuring Google AdWords & Google Analytics, the accounts were connected. Then, to track targeted actions on the site, we have implemented metrics to track conversion and created specific goals in Google Analytics.
To test the effectiveness of the advertisements and generate the maximum number of clicks to the site, we have created 5 text variants for the advertisements and extensions (Related links and teasers).
To reduce the cost of advertising and increase its effectiveness, we've created remarketing lists based on customer behavior on the landing page.
The advertising strategy we chose kept users who were already on the site coming back and motivated them to purchase through various strategies.
We have put forward some progressive hypotheses to improve the conversion of the landing page. For each hypothesis, we performed tests and analyzed the behavior of visitors using Optimizely.com and Google Analytics. As a result, we determined which version of the website performed the best and generated a high conversion rate. A / B test result, conversion increased from 5% to 9.7%.
Optimization of advertising campaigns
The main tasks of contextual advertising optimization are to reduce the cost of a click and increase the CTR (click-through rate) of the ads.
To minimize inefficient spending and make each ad display in search as efficient as possible, the specialists of our agency carried out a set of works, such as: disable the display of ads for keywords and low converting regions, correct bids, create an ad serving schedule, add negative keywords, etc.
As a result of the ad campaign optimization, the cost per click decreased to $0.47 CAD or ($0.37 USD), and the CTR increased to 17.77%.
Bonus – Create an Instagram business account and content plan development
Creating the design for a professional Instagram business account was not included in the cost. It was a gift from our agency to a regular client.
We created an Instagram account design based on the visual identity of the brand: Instagram feed design for 18 posts, 4 highlights and 3 stories.
We developed themes for the content plan and divided them into post categories: Informational, entertainment, selling.
Coincidentally, the content plan fell on a holiday and during a promotion. Of course, as we too have the ability to create custom animation, our animation team created two 1080 HD videos. One for Ramadan and for the promotion. Here was the results, always conveying the look and feel of Aina's brand: